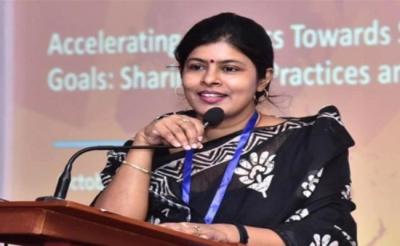 Uttar Pradesh, the land of Gods is gearing up to witness a high-intense ballot box war. Due to this, even a small incident and development in the state is being seen through a magnifying glass. One more incident was reported in the state that had made many heads turn at Uttar Pradesh.
Uttar Pradesh had attracted a wide range of attention with the alleged audio of a woman Minister reportedly complaining against her husband of physical assault. The alleged audio is believed to be of a Cabinet Minister in Yogi Adityanath Cabinet.
Minister of Women and Child Development portfolio Swati Singh's recent phone call with an unidentified person is doing rounds. During the call, the Minister reportedly shed light on how her husband treats her and how she is subjected to physical assault.
The alleged audio call is in the news with the reason that the Cabinet Minister had reportedly leveled various allegations against her husband Daya Shankar Singh. The allegations include physical assault and mistreatment.
The twist in the tale is that the Cabinet Minister had requested the person, with whom she spoke over the phone to not disclose the matter to anyone.
The leader had contested the General elections in 2017 and emerged victorious in the polls. After the election win, the Uttar Pradesh wing of Bharatiya Janata Party(BJP) took her into the Cabinet and granted her the Women and Child Development portfolio.
However, there is an opinion that the alleged audio leak that is being trended on social media platforms is an old one and has now been leaked. The Minister who is believed to be in the leaked audio is yet to make a comment on the audio leak.
This is not the first time the Minister was in the news with such a controversy. Earlier, she was in the middle of the news when her husband locked horns with the Bahujan Samaj Party, one of the popular parties in Uttar Pradesh. This led to a big controversy and raised many eyeballs. After a few years, the Cabinet Minister is in the news with the leak of alleged audio.