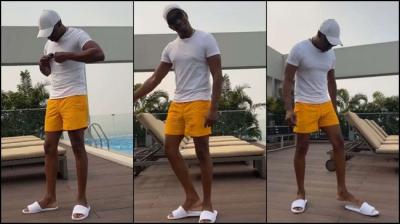 Icon star Allu Arjun's 'Pushpa' did not get a positive response universally but the has become a huge rage among the public right now. Allu Arjun's dialogues, dance steps and mannerisms have become a trend and big celebrities are imitating them. Well-known cricketers are doing these and they are going viral. We have seen Ravindra Jadeja mouthing the 'Thaggede Le' dialogue and pulling off the 'Pushpa' look. Shikar Dhawan did the same too and Suresh Raina recently pulled of the iconic 'Srivalli' step and appreciated Bunny's acting in the film.
Young cricketers like Ishaan Kishan and Suryakumar Yadav too did the 'Srivalli' step from 'Pushpa' and Australian star cricketer David Warner is doing videos related to 'Pushpa' even before the film's release too. Even he did the 'Srivalli' step recently. The latest star cricketer to join the list is West Indian player DJ Bravo. The CSK player was seen doing the Srivalli step with his sunglasses on by the side of the swimming pool. This video has been shared by 'Pushpa' team themselves. Also, the Hindi version of 'Pushpa' is in the top of Amazon Prime Video ranking right now while Telugu version stands in the next place. This explains how much 'Pushpa' fever has gripped the nation from the past few weeks.
 'Pushpa – The Rise' is set in the backdrop of red sanders smuggling and it is released on a pan-Indian scale. It was dubbed in Tamil, Hindi, Kannada and Malayalam languages. Rashmika played the role of Srivalli in this film while Malayalam star hero Fahadh Faasil played the role of Bhanwar Singh Shekhawat. Actors like Ajay Ghosh, Sunil, Anasuya and others played negative roles in this high-budget film. Sukumar is currently enjoying it and people are hoping that he comes with an even better output for 'Pushpa – The Rule'. Devi Sri Prasad gave a chartbuster album for 'Pushpa' but his work on background scores upset many people. His fans are hoping that he delivers his best once again for the second part which is expected to hit the screens during the end of this year. Fahadh Fasil is also going to have more screentime in the second part as per sources.