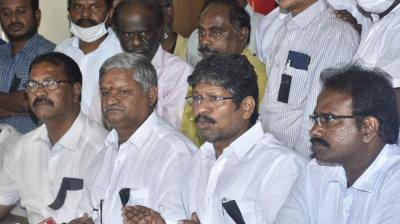 In the wake of the employees going headstrong on their decision to hit the roads to achieve their demands and already served the strike notice the Andhra Pradesh government led by Chief Minister YS Jagan Mohan Reddy is putting quality efforts to see that the issue wont get slipped out of hand and the issue gets sorted out at the earliest.
As part of the efforts the Employees were asked to attend the meeting with the Committee to discuss various issues related to the PRC recommendations. The invitation for the meeting was sent to the PRC Steering Committee media reports said.
The General Administration Department Secretary Shashi Bhushan had sent the invitation asking the members of the associations to be present for the meeting. Secretariat will be the hosting place for the crucial meeting between the employees and the Andhra Pradesh Ministers Committee.
The GAD had asked the employees to attend the meeting a day after the protesting employees served notice announcing their schedule to hit the roads to agitate with the demand of calling back of the Government Orders on the new PRC recommendations by the Andhra Pradesh government.
Now the ball is in the employees court and we have to see how the employees will react to the invitation and what is going to be their next step in dealing with the much-talked-about PRC recommendations issue.
The PRC recommendations had resulted in the gap between the state employees and the Andhra Pradesh government getting wider. The Employees want the government to cancel the Government Order and implement the previous PRC as the new PRC will not benefit them in any manner.
On the other hand the Andhra Pradesh government is very strong on its stand on the PRC and the state cabinet had approved the PRC recommendations and the house sites for the employees.
Looking at the schedule of the agitation announced by the employees it will start on the 25th of this month and will intensify the protest from the 7th of next month as the employees will go for indefinite protest. The Non-cooperation of the employees will start from February 5th.