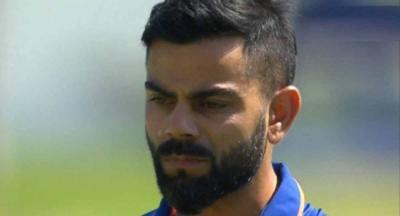 Things are not going the Run Machine Virat Kohli's way in recent times. After stepping down as a T20 skipper, he lost his ODI captaincy and he left the captaincy in the long format of the game. In just a few months, Virat Kohli became the former skipper of the team, from the captain in a few months.
Virat Kohli attracted one more controversy when he was filmed reportedly chewing gum during the third match when the national anthem was playing. When the players of India and South Africa were on the field when the national anthem of both teams was played, the video was captured.
The visuals of Virat Kohli chewing gum were captured by the cameraman and instantly went viral on social media. The viral video created a big uproar among cricket fans. Talking to social media, they are criticising Virat Kohli over the same. He was trolled brutally by the netizens.
The viral video shows Virat Kohli chewing gum during the National Anthem when the other players were singing the Anthem. This behavior of Virat Kohli, known for his intensity and intent for the game had raised many eyeballs.
The former skipper of Virat Kohli became a target of trolls, who are making fun of the Run Machine as they were not at all impressed with what Virat Kohli did the other day on the field.
Talking about the match result, India lost the series 3-0 as the hosts whitewashed India. In the third match played at Cape Town, India came close to the target and gave hope that India had the chance of escaping the whitewash.
But Indian players could not hold their nerves in the death overs. The South African bowlers used the situation in their favour and picked the last three wickets to finish the series with a stunning whitewash.
South Africa posted a target of 287 in front of India, after Quinton de Kock's stunning century. In response, India could not chase the target and lost the match. Virat Kohli's fighting half-century did not help India. After the defeat, Head Coach Rahul Dravid said the series is an eye-opener.