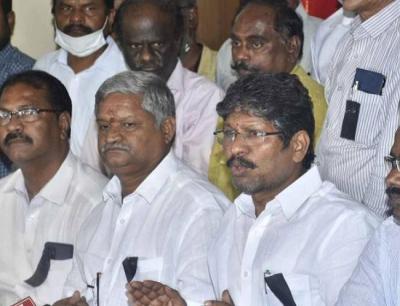 As announced earlier, the Andhra Pradesh employees are going forward in protesting against the PRC recommendations aggressively. With demand for cancellation of the PRC Government Orders, the employees are hitting the roads to protest. They made it clear that they will not settle for anything less than the rollback of the Government Orders.
The Employees Associations have served the notice strike to Sashi Bhushan, Chief Secretary of JAD secretary in Secretariat. The notice served by the Associations consists of all the details on when the protests will be started and how the protests will go forward, media reports said.
According to the strike notice, the indigent strike will be started from the 7th of next month and the employees will not take part in any duties from midnight of the 6th of February.
The employees also made it clear that they will not take part in the meetings with the special committees to discuss the PRC issues unless the Government Orders are canceled. This shows how strong the employees are on their stand in fighting for their demands.
On the other hand, the Andhra Pradesh High Court heard the petition filed by the employees against the PRC earlier today. The Court made it clear that the Government possesses the right to reduce or increase the salaries of the employees and said the employees don't have the right to challenge the same.