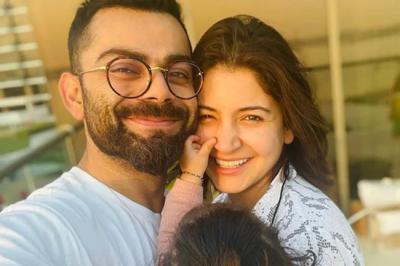 Power couple Run Machine and Bollywood actress Anushka Sharma had earlier decided to not let the paparazzi click their daughter Vamikas pictures and have been following the same. Since Vamikas birth her parents are making sure that her pictures are not circulated and clicked by the media.
Despite the couples policy of not letting Vamikas pictures be captured by the media Vamikas pictures were captured and widely circulated on various social media platforms.
When Run Machine Virat Kohli scored a half-century in the third ODI against the Proteas his family joined the celebrations. Anushka Sharma who was present at the stadium cheered for Virat Kohli holding Vamika in her hands. The cameraman captured the duo.
Fans who watched the ODI match on the Hotstar app had widely shared the picture. The pictures took the social media like a storm. The fans also wondered why the couple allowed clicking Vamika.
Putting a full stop to these questions Anushka Sharma had reacted to Vamika getting clicked and the pictures getting shared on social media. Taking to social media the Actor producer issued a long note on the incident.
Anushka Sharma said that the issue of Vamika captured by the cameraman at the stadium came to their notice and said that they were unaware that the camera was focused on them during the celebrations and Vamika was captured during the match.
Having said that Anushka Sharma maintained that their opinion on not exposing Vamika to the media remains the same and they want that Vamika is not clicked and her pictures will not to be published. Anushka Sharma placed this request in her note and thanked all at the end of the note.
Hi guys We realise that our daughters images were captured at the stadium yesterday and widely shared thereafter. We want to inform everyone that we were caught off guard and didnt know that the camera was on us. Our stance and request on the matter stays the same. We would really appreciate it if Vamikas images are not clicked published for reasons we have explained earlier. Thank you Anushka Sharma said in her statement