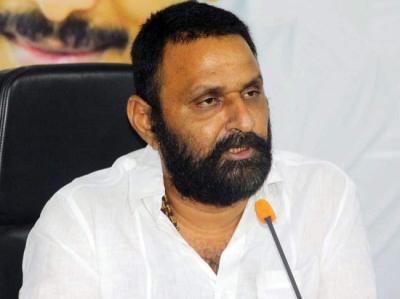 The alleged Casino set up in Gudivada for the Sankranthi season had surfaced recently increasing the political heat. Breathing fire on Kodali Nani and YCP, the opposition leaders are coming down severely against the Minister. A team of TDP leaders is about to reach Gudivada to look into the issue.
Minister Kodali Nani, who is being criticised on the issue, has opened up on the controversy. Talking to the media on the issue Kodali Nani hit back at those who leveled allegations of running a Casino at the convention center.
The Cabinet Minister said, there is no truth in the allegations against him on the Casino and dared his critics to prove that gambling and Casino were held in the Convention Centre. I dare these people to prove the Casino
With a strong tone, Kodali Nani said that Chandrababu and people who are supporting him are spreading fake news about running a Casino. The Cabinet Minister termed this as cheap trucks of the opposition party.n the Convention center, he said.
Kodali Nani said that if the allegations of running a Casino are proved, he will quit politics and commit suicide. Having said that, he asked about Chandrababu Naidu and otters. If they fail to prove the allegations, what will they do, he asked.
Kodali Nani also expressed his dissatisfaction over TDP forming a fact-finding committee and asked how the opposition party would form a committee. Talking about the members in the panel, Kodali Nani people like Varla Ramaiah who never won any elections were included in the panel.