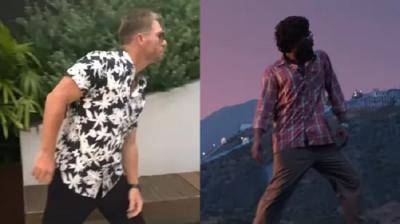 Australian cricketer David Warner is an entertainer on and off-field as well. His Tik Toks and reels for famous songs and dialogues are as famous as his performance on the ground. David Warner became quite close to the cricket fans in Telugu states with his videos. No one can forget his Butta Bomma song.
David Warner had done what he is best at for one more time. Going by the craze of Pushpa, David Warner had pulled off the famous step from Srivalli song. His recreation of the famous step became an instant hit and was well received by the fans.
However, his viral video had also raised a doubt among the netizens that if David Warner is going to play for the Play Bold army Royal Challengers Bangalore franchise as the team is in need of a skipper with Run Machine Virat Kohli stepping down as the captain of RCB.
There is a reason for the netizens developing doubt. David Warner who often recreates Telugu songs had recreated the Kannada version of Pushpa, not the Telugu version. This made the netizens wonder if there is any possibility that David Warner might join the RCB squad.
Though there is no information on whether David Warner will play for RCB or not, we will get more clarity on this in the mega auction for the IPL tournament. David Warner was recently sacked as the skipper and dropped from the Hyderabad team. The left-handed player had openly expressed his dissatisfaction with this.