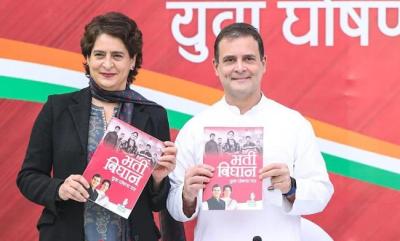 Uttar Pradesh is one of the five states which will face the general elections this year. Compared to other states, Uttar Pradesh is getting good attention as far as the General elections are concerned. The reason for this, BJP is ruling in the state and the BJP graph has been reducing gradually.
On top of this, the opposition parties are making sure that they give their best in the general elections, making the ruling party have a tough road ahead while facing the much-awaited general elections in Uttar Pradesh.
The grand old Congress is a few steps ahead compared to the other opposition parties. As part of the preparations for the forthcoming polls, the Congress party had released the 'youth manifesto' earlier today.
Gandhi scions Priyanka Gandhi Vadra and Rahul Gandhi held an event on Friday to unveil the election manifesto that sheds light on empowering the youth. The manifesto highlights how the party will give a special focus on the youth in the state.
Priyanka Gandhi said the Congress party is aiming at making a new Uttar Pradesh where the youth will be given strength by providing opportunities to youth in terms of recruitment. Not getting opportunities is a key issue in the state and we want to address the issue, she said.
Adding further, Priyanka Gandhi said the party will provide employment opportunities for as many as 20 lakh people in the coming days. Through the recruitment, the Congress party wants to give a josh to the youth in Uttar Pradesh.
The manifesto was made after looking into the unemployment issue. The team that was actively involved in drafting the manifesto met the youth across the state, took their suggestions and made the manifesto, Priyanka Gandhi Vadra said.
While launching the manifesto, Priyanka Gandhi Vadra alleged that the Uttar Pradesh government had failed to grant employment to the youth and said unlike the government, the Congress party will focus on the employment for the youth and the party will give the vision that is required for the youth.We are not just restricting to employment, Congress will also look into other issues faced by the youth, she added.