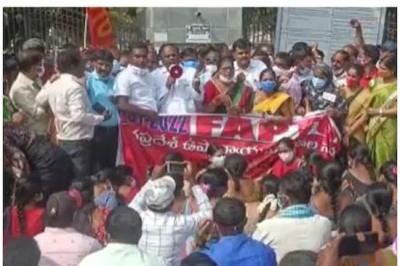 The protest called by the Andhra Pradesh state employees is getting bigger and bigger with each passing day. They have just one demand in mind, which is to call back the pay scales under the new PRC recommendations with an immediate effect. Calling the PRC against their demands, they are protesting against the same.
Joining the force, the teachers working in the state-run schools across the state took part in the protest against the pay scales. Teachers in big numbers actively participated in the protest.
As a bid to show their protest against the PRC the teachers who took part in the protest sang songs against Chief Minister YS Jagan Mohan Reddy on how he had cheated them on the issue.
The Teachers associations had hit the roads to fight for their demands. Alleging that they were betrayed, they placed their demand for a call back of the pay scale under the newly announced PRC.
The protesting teachers said that, like the reverse tendering, the government announced reverse pay scales and the pay scales will not benefit them in any manner.
They also said that, if their demands are not addressed at the earliest, then they will be left with no other option other than intensifying their protest and going ahead aggressively.