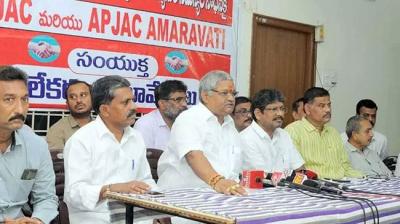 The pay revision issue in Andhra Pradesh that was expected to pacify the state employees went the other way and made the employees angry. Showing no sign of progress, the issue had reached the starting point yet again as the employees have been raising their concerns on the recommendations of the PRC issue.
Not taking a back step, the employees are firm on their stand to fight for their demands. Taking their protest to a next level, the employees took a big decision as far as the fight against the controversial Government Orders is concerned.
The AP NGO Employees are said to have taken a key decision in this matter. Media reports say that they have decided to serve strike notice as a bid to protest against the GOs. The strike notice is expected to be served to the Andhra Pradesh Chief Secretary.
If we have to take anything from these reports, the state employees might hit the roads for the protest anytime after the 7th of next month. The AP NGO received massive support from other employees associations and they reportedly said they will support APNGO.
The reason behind serving a strike notice is that the employees' associations reportedly felt that they could give some time to the government to take a call on their demands rather than directly hitting the roads. In the meantime, the employees are likely to design a complete plan on going ahead with the protest.
The representatives said that they have only one demand, which is to withdraw the GOs on the PRC issue. Other than that, we will not accept any other demands. The other day, the employees showed their protest against the Government Orders on the PRC issue by burning the copies of the Go copies.
Alleging that the employees will get affected by the PRC recommendations, the employees are saying that the concerned authorities are giving contrast details in the matter. The CAG reports say Andhra Pradesh is doing well in terms of economy, but the government is saying that the state is not seeing good profits. We want to get clarity on the claims, the employees said.