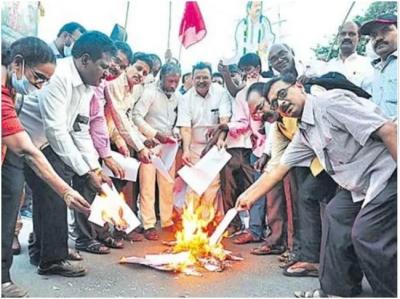 The flame around the Pay Revision Commission(PRC) issue is still burning. The employees who are not happy with the PRC are gearing up to protest against the issue. They have made their stand on the long-pending issue clear. The employees said, they are not interested in talks and all they want is the call back of the GOs.
Raising their voice against the government implementing the pay scale of the Centre, the representatives of the Employees associations asked how can the state government go-ahead on the issue without seeking their consent on the pay scale.
Countering the claims made by the Chief Secretary that the PRC issue will put an additional burden on the economy and said they are seeing the DA matter as a big betrayal.
To show their protest against the controversial GOs on the PRC, the members of the employees' associations called it reverse PRC. We are not happy with this and we want the GOs to take back, they said.
Having said that, the JAC leaders had extended their support to the protest called by teachers' associations to surround the Collectorate. The leaders also urged the employees to take part in the protest.