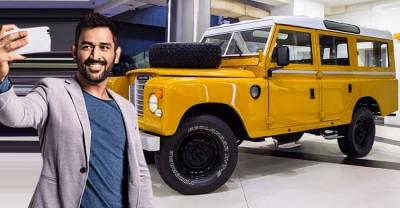 Former Indian skipper Mahendra Singh Dhoni is an evident fan of luxury bikes and cars. He already has a few bikes in his garage at his pash Bungalow in Ranchi. The list of luxury vehicles saw a new addition when Mr. Cool Dhoni became a proud owner of a vintage car.
It is said that Mahendra Singh Dhoni bought the vintage Land Rover Series 3 Station Wagon of 1971 edition. Dhoni got the vintage car in an online auction that was held by Big Boy Toyz, which is into dealing with pre-owned vehicles.
The vintage vehicle that is believed to be bought by Mahendra Singh is of yellow colour and the manufacturing of the vintage vehicles was stopped in 1985. The vehicle is equipped with a four-speed manual transmission speed reportedly.
The Rare Land Rover vehicle is also said to be the first one to make its way to India. However, there is no clarity on engine specifications and other specifications. Details on the price of the vehicle are also awaited.
Mahendra Singh Dhoni's garage already has a decent attendance of vehicles like costly bikes and modified bikes. The world-cup-winning skipper also has four wheels like Hummer, Porsche, and others.