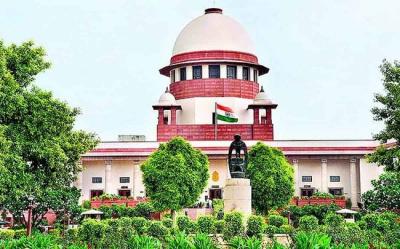 It is known that the Supreme Court had earlier ordered the states to pay compensations to the kin of the Covid victims. However, the issue of a few states not paying the compensation was brought to the notice of the country's top court, the Supreme Court. The Apex Court became serious in the issue.
The division bench of the Supreme Court which is not happy over the matter had issued notices to the Chief Secretaries of two states Andhra Pradesh and Bihar. In the notice, the Apex Court asked the Chief Secretaries to be present before the Court for the hearing at 2 PM today.
A few families in Andhra Pradesh and Bihar who are alleging that there is a delay in the compensation payment for the Covid families have knocked on the doors of the Supreme Court. In the petition, the petitioners have listed out the problems they are facing in the matter.
The petitioners also alleged that when they reached the concerned authorities to get the compensation they were being asked to submit various documents to get the compensation. On the same grounds, the petitioners have approached the Apex Court seeking directives for hassle-free compensation.
Pulling the Chief Secretaries of both states on the same matter, the Supreme Court asked why there is a delay in granting the compensation that was supposed to be issued to the family members who lost their loved ones to the deadly pandemic.
Earlier last year, the Supreme Court had asked the Union Government to take a final call on the compensation. After the Union Government had fixed Rs 50,000 as compensation for the Covid victims across the states, the Supreme Court issued directives to the states and Union Territories to pay the sum for the family members of the Covid victims.
When the petitioners said they are having a few issues in receiving the Covid compensation, the Supreme Court asked the Chief Secretaries to come up with a proper reason on why the Covid compensation is not being granted. Now we have to see how the Supreme Court deals with the case.