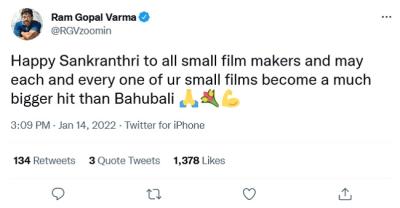 The Telugu States are filled with festive vibes on the eve of the Sankranti festival. The celebrities and politicians in both states are celebrating the festival with their loved ones and wishing people on the occasion of the festival. The same is the case with everyone.
While everyone is wishing others on the festival, maverick filmmaker Ram Gopal Varma who sees the world differently had wished others on the eve of the festival in his typical style.
In a short and straight post, Ram Gopal Varma wished a happy Sankranti for all his haters. He also wished that the wish of his haters be granted by the god and he will die as soon as possible. "Happy Sankranthri to all my haters and may god grant ur wish that I will die asap," RGV tweeted.
In a series of tweets, Ram Gopal Varma wished all the small makers that they might become big directors and the small movies they make will become bigger hits than Bahubali.In another tweet, RGV also wished the filmmakers that God might make the Andhra Pradesh government understand their issues and agree to the ticket prices as said by them.
"Happy Sankranthri to all film makers and may god make AP govt agree to whatever ticket price u guys want and also pay u whatever money u might lose in ur flops," Ram Gopal Varma's tweet reads.