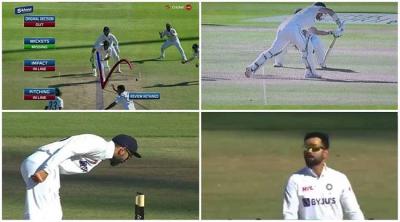 The Decision Review System(DRS) Technology was included in cricket enabling the on-field umpires to make the correct decisions while declaring the player out or not. Since the inception of the new technology, several questions have been raised on the credibility of the DRS. One more incident created a big storm in the cricketing world recently.
In the ongoing Test series between India and South Africa, one DRS incident has been attracting mixed responses from the former players and players. Skipper Virat Kohli is in the news with his angry response over the DRS.
During South Africa's second innings in the 21st over, Ashwin's delivery had hit the pads of South Africa's Elgar. On-field umpire Marais Erasmus declared Elgar as Leg before wicket(LBW). However, the batsman went for the review challenging the umpire's decision.
In the review, the decision was changed. This did not go well with the Indian players. Starting with Run Machine Virat Kohli, Stylish batsman KL Rahul and bowler Ashwin expressed their displeasure over the issue openly. What the players said on the field was caught by the stump mic that went viral.
Virat Kohli, who was not happy with the way the decision was changed after the DRS review was taken went to the mic and made an appeal to the broadcaster to not just focus on the opposition team and keep a focus on their team as well.
"Focus on your team while they shine the ball. Not just the opposition. Trying to catch people all the time," Virat Kohli said on the stump mic.
Right-hand batsman KL Rahul who is serving as the vice-captain of India in the current South Africa series joined the force and expressed his displeasure with what happened. The Stylish batsman said it is like the whole country playing against 11 guys(Indians).
"You should find better ways to win, SuperSport," ace spinner Ravichandran Ashwin was recorded reportedly saying this.
Virat Kohli's response did not please former Indian player Gautam Gambhir, who slammed the skipper for being immature. Saying that he was not happy with Virat, Gambhir said Virat will not be an idol for the youngsters.