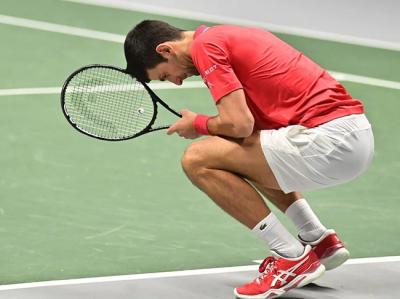 Owing to the Covid vaccine and the vaccine certificate, celebrated Serbian professional tennis player Novak Djokovic is going through a tough phase. After he was shifted to the immigration detention center by the concerned authorities, the Australian administration shocked the global player yet again.
As a big shock to the player, his visa was canceled by the Australian government, which marks the second time cancelation of his visa. Confirming the development, the concerned Minister said that the decision was taken by the government as an effort to safeguard the borders of the nation.
Talking about the controversy, Immigration Minister Alex Hawke said that the visa of Novak Djokovic was canceled by the government as per the health concerns and the public interest. The Minister also said that the cancelation of the Visa also results in the ban of the player for a period of not less than three years.
The decision taken by the Australian government on the player's visa will pour water on the player's dreams to win the 10th Australian Open title and 21st Grand Slam. The efforts and plan of the players went for a toss with the visa cancellation row.
For the Australian Open, Novak Djokovic reached the Melbourne Airport earlier this month. However, the player did not have any vaccination documents to submit to the concerned authorities there. This had led to a wide range of arguments between the global player and the authorities deployed at the airport.
On the grounds of the non-vaccination, the Australian Border Force officers have shifted the player to the Immigration Detention Centre. Unhappy with the way he was dealt with by the officials, Novak Djokovic had knocked on the doors of a federal court saying that the officials did not listen to what he was saying.
Hearing the petition filed by the tennis player, the Federal Court directed the Immigration officials to revoke the visa of the player and asked the officials to release the Tennis player for the detention centre.
However, Immigration Minister Alex Hawke used his discriminatory powers and canceled the visa of the Tennis player as the Australian government is focused on safeguarding the borders.