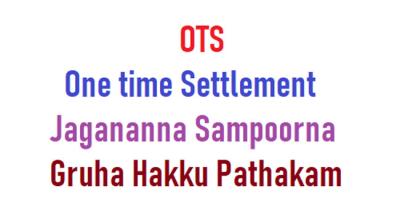 The One-Time Settlement scheme introduced by the Andhra Pradesh government is raising many eyebrows. The opposition parties are not leaving any stone unturned to target the government on the scheme. Amid this, Andhra Pradesh Chief Minister YS Jagan Mohan Reddy made key comments on the OTS scheme on Wednesday.
Days after Municipal Administration Minister Botcha Satyanarayana said the One-Time Settlement scheme is voluntary, CM Jagan reciprocated the same words and said that the scheme is voluntary and the beneficiaries are not forced by anyone to pay the prescribed amount.
The Chief Minister said that the payment was made voluntary for the beneficiaries and the opposition parties are using the scheme to spread false information. These forces are trying their level best in making sure that the scheme won't get implemented in the state. We should be careful with these forces, he said.
At the meeting, CM Jagan had issued directives to the concerned officials to hold campaign events to create awareness among people on how beneficial the OTS Scheme would be. He asked the officials to make people not believe the fake and false news which is being propagated by these forces.
Targeting the Telugu Desam Party(TDP) which was in power in the previous regime, CM Jagan said the party which is creating issues over the scheme did not consider waiving off the interest on the debts of the poor. Saying that more than 40,000 people have paid the amount and interest for the scheme and alleged that they did not get the properties.
"Unlike what is being propagated about the One Time Settlement (OTS), there will be no pressure on the beneficiaries. They will get total rights on the property and they can either mortgage or sell the property if they want. All the registration work will be done and the documents will be handed over to the beneficiaries for free of cost," CM Jagan said.
The scheme was introduced by the state government so that the beneficiaries will get legal rights on the properties they get under the flagship scheme of the state government 'Jagananna Sampoorna Gruha Hakku scheme'.