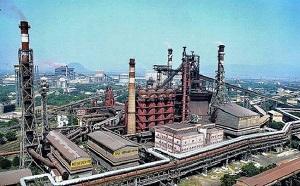 It appears that the Government has already set in motion the process of privatisation of the Vizag Steel Plant. It is becoming increasingly clear that the privatisation is being done in parts. Different units are being separated into smaller units and these units would be privatised one by one.
If sources are to be believed, the Coke Oven unit has now been readied up for privatisation. This unit supplies the gas needed for running the whole plant. The gas produced by this unit would be used for steel melting shop and mill's black furnace as the fuel. This unit  has five battery units each costing around Rs 3000 crore. As of now bids have been invited for the first and fourth units in Battery number 5.
Clearly, each unit would be sold one by one. Sources said that some 200 employees working in this wing would be shifted to other departments. The relevant files have also been readied up. Thus, in each department sold, the company that buys it will bring in its own employees. But, the current employees would be sent to other wings that are still owned by the VSP.
As of now, the employees unions seem to have no strategy to fight this phase-wise privatisation. At this rate, the whole of the VSP would be privatised in a phased manner and it could take not very long.