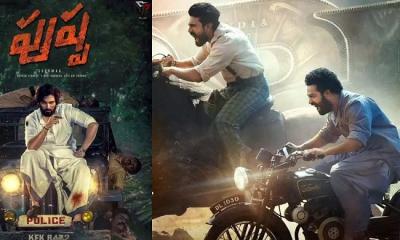 RRR and Pushpa: The Rise are two of the most anticipated pan-India outings from Tollywood. While Pushpa: The Rise will be releasing in theatres on the 17th of December, RRR will be hitting the marquee on the 7th of January. As for the theatrical trailers, Pushpa's trailer will be out on 6th December, and RRR's trailer will be out on the 9th of December. Needless to say, a lot is riding on the trailers of these two biggies.
As Pushpa unit spent a whole lot of time filming the first installment Pushpa: The Rise. So, they are having to kickstart the promotional campaign much later than they would have liked. With under 2 weeks to go for Pushpa: The Rise's release, there is not a lof time left for the promotions. So, a lot will be riding on the trailer of the film. It is of utmost importance that Sukumar hits it out of the park with the trailer. A winning trailer cut can come a long way in helping Pushpa pull the pan-India audiences to the theatres. Going by the trailer tease that was unveiled recently, Pushpa: The Rise is going to be a mass feast and the same might be confirmed through an action-packed trailer that will be out on 6th December.
As for RRR, the film is promoted as India's biggest action drama. The trailer of the film was supposed to be out on the 3rd of December but it has been postponed due to unforeseen circumstances. Given the fact that RRR is Rajamouli's immediate next outing after the blockbuster Baahubali duology, the expectations are naturally high on the Jr NTR and Ram Charan starrer. With a winning trailer, the hype surrounding the film will reach a whole new level and that is for certain.
The onus is now on Rajamouli and Sukumar to deliver the knockout punches with the trailers of their respective films.