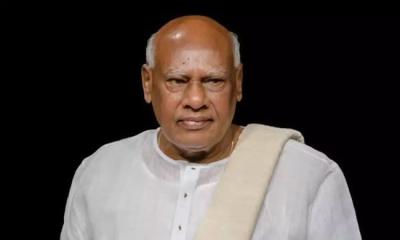 One of the veteran politicians from Andhra Pradesh Konijeti Rosaiah, who had an inspirational journey and went on to hold various positions at different levels passed away on Sunday. The senior Congressman breathed his last due to ill health after suffering low BP in the wee hours today. He served as the Chief Minister of Combined Andhra Pradesh and Governor of Tamil Nadu and Karnataka.
Dignitaries from politics are expressing their shock over the sad news and condoling the death of Konijeti Rosaiah, who left his mark in politics. The reforms he brought during his tenure as the Finance Minister of combined Andhra Pradesh. It was he, who brought the scheme to allot retirement benefits for the teachers.
Andhra Pradesh Chief Minister YS Jagan Mohan Reddy had expressed his grief over the demise of Rosaiah and extended his condolences to his family members. Recollecting that he held various positions in his long political career, the Chief Minister called his demise an irreplaceable loss to theTelugu states.
The Chief Minister of Telangana KCR had expressed his shock over his demise and said that Konijeto Rosaiah is one of the few leaders who brought dignity to the positions he held during his tenure. Telangana Finance Minister Harish Rao said it was sad news to hear about him who served people by holding various positions.
Reacting to the sad news, Megastar Chiranjeevi condoled the death of the veteran Congressman. Calling him Bheesmacharya of politics, Chiranjeevi credited him for safeguarding the values and ethics in politics like a sage. An era came to an end with his demise. He remained distant from controversies, he said.
Telangana Pradesh Congress Committee(TPCC) chief Revanth Reddy said that he is deeply saddened by the demise of Konijeti Rosaiah, which is a great loss to the Congress party and him. He extended his profound sympathy to his family members.
TDP chief, former Chief Minister of Andhra Pradesh Nara Chandrababu Naidu said Rosaiah had established himself as a finance expert and good administrator. His journey goes on from a student leader to the governor, he said.
Remembering his find with Konijeti Rosaiah, CPI Narayana had expressed his condolences and paid tributes to the great leader and administrator. In a video byte, Narayana shared memories he had with him.