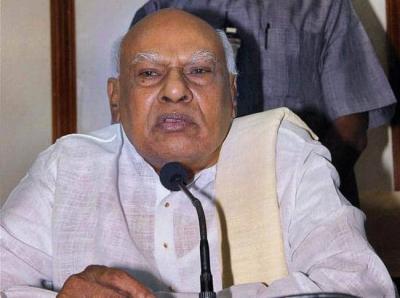 Veteran Politician Konijeti Rosaiah, who held the positions of Chief Minister and Governor had breathed his last during the early hours of Sunday creating a great void in the political spectrum. He passed away while he was being taken to the hospital after he complained of low BP.
As per the information, Konijeti Rosaiah suffered low BP and complained the same to his family members. His family members acted fastly and took him to a private hospital. Sadly, he passed away on the way to the hospital.
The Ace politician who held various positions in the Congress party had served as the Chief Minister of combined Andhra Pradesh between 2009 to 2010 after the demise of the then serving Chief Minister Y. S. Rajashekhara Reddy. Rosaiah, who earned himself a name as an effective leader earned praises for maintaining law and order in the state as the Telangana agitation was at its peak during his tenure as Chief Minister.
Ending his brief tenure as the Chief Minister, Konijeti Rosaiah had decided to step down from his position and submitted his resignation to the Governor. After he stepped down, Kiran Kumar Reddy was made the Chief Minister.
Rosaiah also left his mark as the Governor. He served as the Chief Minister of Tamil Nadu for six years and two months as the Karnataka state. Having held various positions, he made sure that he gives his best all the time. Of all the positions he held, the Finance Minister portfolio earned him a lot of appreciation and accolades. He served as the Lok Sabha member from Narsaraopet constituency in 1998 and held the position of chief of the Andhra Pradesh Congress Committee for two years.
88-year-old veteran politician hails from Guntur's Vemuru. As he has been interested in politics from his early days, he joined the grand-old Congress party and started working with the party closely. His journey started from AP Legislative Council to Cabinet Minister to Chief Minister position.
Konijeti Rosaiah had worked under various Chief Ministers like T Anjaiah, Kotla Vijaya Bhaskara Reddy, N Janardhana Reddy, and YS Rajasekhara Reddy. The Cabinet Minister posts he held included home, health, education, and transport.