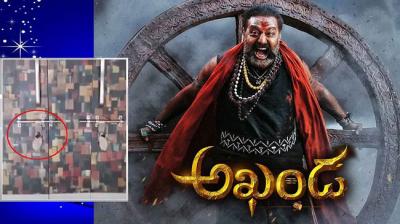 Nandamuri Balakrishna's Akhanda brought a festive season for the fans who are in awe of the film. Boyapati Srinu made fans go gaga with mass elevations and gravity-defying fights. In the Telugu states and overseas as well, Akhanda is setting the box office on fire.
However, Akhanda faced a big shock when the officials stopped the matinee show and seized a theatre for violating the norms brought by the Andhra Pradesh government on the number of shows that were permitted for a day.
The incident was reported from Mylavaram in the Krishna district. Mylavaram Deputy Tahsildar had seized the Sanghamitra theatre for premiering a benefit show of Akhanda against the rules. On the grounds of violating the norms, the theatre was seized.
It has to be noted that the Andhra Pradesh government brought a Government Order to bring down the ticket fares in the theatres across the state. Besides the cut in the ticket prices, the government permitted only four shows per day.
The biggies from the Tollywood industry like Chiranjeevi, Suresh Babu, veteran director Raghavendra Rao, and others have appealed to the government to rethink the decision. However, the government said there is no taking a backstep on this.