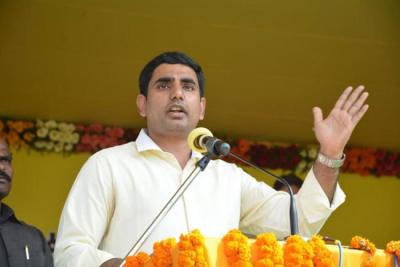 Former Minister, Telugu Desam Party(TDP) National General Secretary Nara Lokesh is touring in Mangalagiri constituency and meeting the flood victims. The TDP MLC had decided to tour the Assembly constituency to know the issues faced by the people due to the recent floods.
On the occasion, Nara Lokesh said that he will run the elections from the Assembly constituency in the coming general elections and emerge victorious in the elections. There is no change in my decision, I will contest the elections in the next elections, Nara Lokesh said.
While announcing his decision, Nara Lokesh had slammed Mangalagiri MLA Alla Ramakrishna Reddy for ignoring the people in his constituency in this situation and said, unlike the MLA he is bound to serve the voters in the constituency irrespective of the election result.
Nara Lokesh who served as the IT Minister in the TDP government had earlier announced that he will contest from Mangalagiri and give the election win to his father Chandrababu Naidu as a gift. Sticking to his previous decision, he announced his decision.
The grand old TDP suffered a humiliating defeat in the 2019 elections with the party winning mere 23 Assembly seats. The Party chief's son losing the elections caused a big humiliation to the party. Nara Lokesh lost the elections with a mere margin of 5,300 votes.