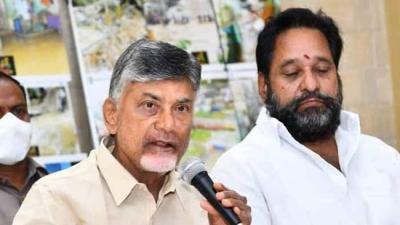 In a significant announcement that indicated a change of strategy, TDP president and former CM Chandrababu Naidu has said that the party would from now on encourage young blood. He said he would promote new generation leaders. Speaking at Renigunta in Tirupati, where he inspected the flood-hit areas, Chandrababu Naidu said that he would encourage only those leaders who would take the YSRCP head-on.
However, there is an intense debate about the kind of leaders who are being promoted in the TDP. Sources say that several leaders with fighting spirit and those who can take on the YSRCP were sidelined. They cite the example of the JC brothers, who managed to thwart the YSRCP in Tadipatri. Why were such leaders sidelined, they ask.
A strong section of the party leaders feel that Chandrababu has for long ignored such leaders. Several leaders like Prabhakara Chowdary, Kalva Srinivasulu, KE Subba Reddy and AV Subba Reddy have been promoted for no logical reason. All these leaders have now fallen silent once the YSRCP came to power. Why were leaders like Ramasubba Reddy, Adinarayana Reddy, Satish Reddy and BTech Ravi in Kadapa, Devineni Uma, Kesineni Nani, gorantla Butchaiah Chowdary, Karanam Balaram, Amanchi Krishna Mohan, Bonda Uma, Siddha Raghava Rao and others ignored?
Several such leaders with fighting spirit have joined the YSRCP while some others have become inactive. It is time that Chandrababu promotes the real fighters in the party, say analysts. They feel that such leaders would be ready to take on the YSRCP. They feel that Chandrababu should also promote a younger generation of leaders to fight the YSRCP.