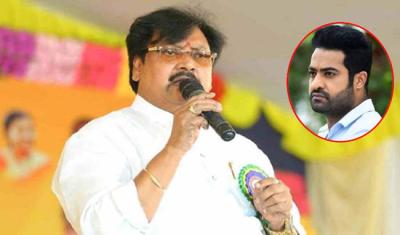 The TDP is not at all happy with what happened to the party chief Chandrababu Naidu inside the Andhra Pradesh Assembly. The leaders are slamming the ruling party members over the alleged personal attack against Chandrababu Naidu where his wife was reportedly abused.
Besides this, the opposition Telugu Desam Party(TDP) is also criticising Jr. NTR on the response he gave to the alleged attack. They questioned why NTR did not take any names while condemning the attack. The list of TDP leaders criticising the star hero is growing with each passing day.
It was the turn of TDP senior leader Varla Ramaiah to question the stand of NTR on the sensational issue. Are films more important than values to NTR? Is the way he responds when his mother-in-law was abused, Varma Ramaiah asked.
Drawing a comparison between Jr. NTR and his father late Harikrishna, Varla Ramaiah said that the situation would have been different if he was alive. He would have not spared Kodali Nani and Vallabhaneni Vamshi for commencing his sister. As a man of action, Harikrishna would have given a reply to them in a fitting manner, the TDP leader said.
Highlighting the friendship between NTR and Kodali Nani and Vamsi, Varla Ramaiah asked when they had such a friendship then why can't NTR react to the issue in an aggressive manner rather than going smoothly on the issue. Putting a video on the mater is not enough, he said.
NTR did not react 10 percent to what Balakrishna had reacted to the matter. NTR has the power to control Kodali Nani and Vallabhaneni Vamshi. They fear NTR. But no one knows why NTR did not show aggressive behavior, Maybe he might have thought that they would not make films with him in the future, the senior TDP leader said.
The issue is causing damage for the TDP in both ways. The party chief reportedly faced humiliation in the house and the comments made by the leaders criticizing NTR are widening the gap between the party floated by his grandfather and the star. If the issue won't stop here then it causes even more damage to TDP.