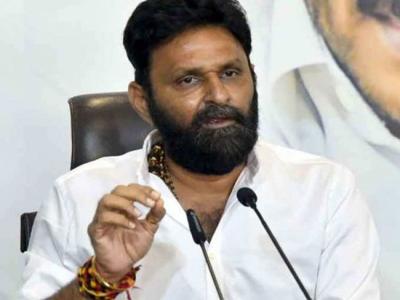 Firebrand leader, Andhra Pradesh Minister for Civil Supplies and Consumer Affairs Kodali Nani had hit back at Telugu Desam Party(TDP) supremo Nara Chandrababu Naidu over his press meet and accused him of making false accusations on the leaders for political gains. He is politicising the issue, Kodali Nani.
Kodali Nani spoke to the media earlier today as a response to Chandrababu Naidu's press meet. The Andhra Pradesh Minister did not spare Chandrababu and lashed out at him for doing politics on the name of his wife. How can we describe a man who stooped too low, asked Kodali Nani?
Attacking Chandrababu Naidu on the comments he made on YS Jagan, Kodali Nani said, Chandrababu Naidu had no topics to target the government which is why he is making such comments. Floods are not a human mistake. Did Jagan pour water in the region? The areas were filled with water as the water bodies received more water than the capacity.
Talking about Jr. NTR, Kodali Nani said, he and Vllabhannei Vamsi were once friends with him and now they are not related to the actor. How can he control us? Will we listen to the actor, Kodali Nani asked.
The Minister known for his foul language said that he has respect towards the Nandamuri family, as does Chief Minister YS Jagan. Nandamuri family will listen to whatever Chandrababu says. They listened to Chandrababu Naidu's words when he said, TDP will collapse if NTR continues as the Chief Minister.
Retaliating what the YSRCP leaders have been saying, Kodali Nani had once again said that they did not say anything about Chandrababu Naidu's wife Bhuvaneshwari in the Assembly. He is just politicising the issue. He should take the responsibility of bringing his wife to the middle of the issue.
The alleged personal attack on former Andhra Pradesh Chief Minister Chandrababu Naidu had set the political heat in the state soaring up. The issue continues to be in the middle of the headlines with the leaders of the ruling party and the opposition party making comments at regular intervals which are making the flame keep burning.