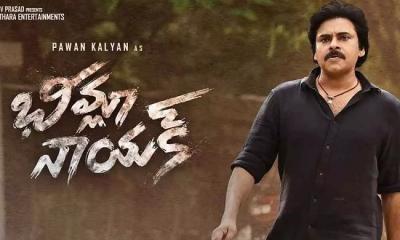 Bheemla Nayak marks the coming together of two powerhouses, Pawan Kalyan and Rana Daggubati. Trivikram is penning the screenplay and dialogues for the Saagar K Chandra directorial which is the Telugu remake of Ayyappanum Koshiyum. The film is nearing the completion of the shoot. The makers had already announced that Bheemla Nayak will be arriving in theatres on the 12th of January next year, marking the auspicious occasion of Sankranthi. A few posters and glimpse videos confirming the same were unveiled by the makers not so long ago.
Now, several speculations pertaining to the mode of Bheemla Nayak's release have surfaced on the internet and they are spreading like wildfire. The other day there were reports claiming that Bheemla Nayak might be heading for direct to OTT release and Amazon Prime Video is ready to offer Rs 150 crores for the direct to OTT rights of the Pawan Kalyan and Rana starrer. If this deal goes through, it will be one of the biggest ever acquisitions in Indian cinema. Amazon Prime is ready to shell out big bucks for the film, given the fact that it is riding high on buzz already and it could well help Amazon Prime's branding in the twin Telugu states.
However, the makers were quick to denounce the rumors as they revealed a new update on the project and reaffirmed the release date. In the newly released poster of Bheemla Nayak, it is especially highlighted that the film will be out in theatres on the 12th of January, as announced earlier. Well, the makers have been stressing on the notion that Bheemla Nayak will be releasing in theatres on the 12th of January, but somehow, the speculations about its direct to OTT release surface on the internet every now and again.
Bheemla Nayak is in the final leg of shoot now and the makers have been aggressively promoting the film for the past few days. Pawan Kalyan is in a hurry to wrap up this film at the earliest as he wishes to turn busy in politics by 2022 and before that, he intends to complete as many projects as he can.