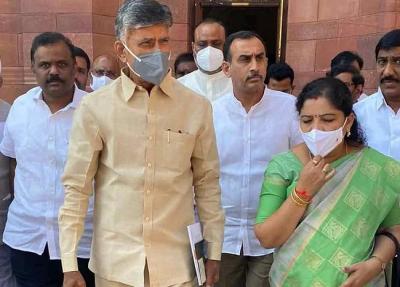 What did Chandrababu Naidu achieve from his two-day tour of Delhi? It ended tamely. He could neither meet Home Minister Amit Shah nor Narendra Modi. Neither of them gave an appointment to the TDP boss. The TDP leader did meet President Ram Nath Kovind. But this was no achievement at all.
So, what did he do during the two days of his stay in Delhi? He addressed a press conference for the Telugu TV channels and then gave personal interviews to each of the Telugu channels. Both these things could have been done in Hyderabad or Amaravati itself. He could have got more traction from either Hyderabad or Vijayawada. None of the national channels even bothered to pick up the TDP story. No channel gave him space. The humiliation was complete.
It was clear that Chandrababu could not meet any leaders from other parties as it could further alienate him from the BJP. Moreover, the Congress was already embroiled in its own internal struggles and Sonia or Rahul may not even give the TDP an appointment. There was no reason why he should go to other regional parties.
Meanwhile, the TDP has lost its ground further on the Pattabhi issue. Soon after securing bail, Pattabhi simply went on a vacation. This only means that he would be out of scene in AP. He would not be able to defend himself let alone attacking the YSRCP. Thus, Chandrababu has, through his defective strategy, effectively eliminated one strong and strident voice from his party. The media space too got occupied by other things. Effectively Chandrababu ended up frittering away whatever gains he made from Pattabhi episode.