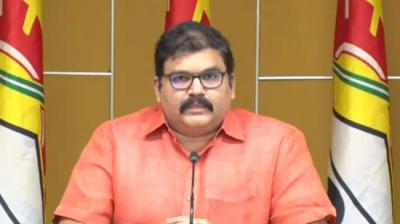 Telugu Desam Party (TDP) spokesperson Pattabhi Ram who had created a political storm with his derogatory statements against AP CM YS Jagan Mohan Reddy was arrested and released from jail subsequently. As a result of his comments, the party offices of Telugu Desam Party(TDP) in AP were attacked allegedly.
Days after Andhra Pradesh High Court granted him bail in connection with the abusive comments row, Pattabhi left the country. The news of him leaving the country became a hot topic in state politics after the pictures of the TDP leader in an airplane went viral. He made everyone break their shells to know the reason behind leaving the country.
To clear the airs on the news of him leaving the country, Pattabhi released a video in which he said he left the country as his daughter was worried about him after the attack on his residence. For the peace of the family members I had to leave the country, he said.
Pattabhi said that the Telugu Desam Party(TDP) has started the fight against the drug abuse incident in the state. With the great cause of saving a generation from the drugs, we have started the fight. Chandrababu Naidu, Lokesh, and Atchannaidu are actively taking part in the fight, he said.
Talking about the case, the TDP leader said that wrong intentions were linked to his statements while his statements meant something else. With an intention to create a controversy, wrong intentions were added to my words, he said.
My daughter is worried about the incident. Seeing such an incident, she is in a big shock. As a responsible father, I am trying to heal the injury caused to her heart with this incident, he said.