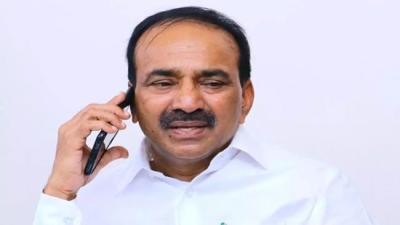 The BJP has predicted that CM KCR's next target after Huzurabad byelections is none other than KCR's nephew Harish Rao. It says that within six months, Harish Rao too would be edged out of the BJP. This would be done to remove all obstacles to the anointment of KTR as the chief minister of the state. BJP state president Bandi Sanjay says that there is a plan to push out Harish Rao from the party.    
Throughout the Huzurabad election campaign, the BJP and Eatala Rajender have consistently said that after Eatala, it would be the turn of Harish Rao to get thrown out of the party. Interestingly, Harish Rao is spearheading the TRS campaign in Huzurabad.  Eatala said on many occasions that Harish Rao too knows very well that he would be targeted next. .
In fact, Harish Rao has been staying in Huzurabad for over two months and has covered every nook and corner of the constituency. It has become almost an Eatala vs Harish Rao battle in Huzurabad. Harish Rao has alleged that the BJP was responsible for the stoppage of the prestigious Dalit Bandhu scheme in Huzurabad. However, the BJP said that it was the TRS which conspired to stop the Dalit Bandhu.