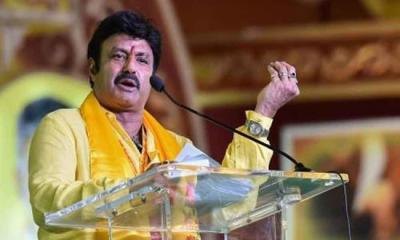 There are two things that the TDP circles are talking about. One is the new lease of life that the recent spate of dharnas on the issue of Pattabhi's arrest gave to the party. The second is the absence of Balakrishna in the protests organised in the wake of Pattabhi's arrest.
The TDP protests actually galvanised the party. All the leaders were seen protesting. The dharna camps teemed in sympathisers and supporters. But, Chandrababu's brother-in-law Balayya Babu was conspicusous by his absence. Even dissidents like Kesineni Nani buried their hatchet and joined the dharna camps But, Balayya was not seen anywhere.
Of course Balayya Babu is a maverick politician. He suddenly becomes hyper active sometimes. Yet other times, he is quite inactive. When something big happens in the party, he would be busy with the works of Basavatarakam cancer hospital. All of a sudden, he is seen taking a tour of Hindupur.  There is an air of uncertainty around Balakrishna. Sources say that Balayya Babu could not attend the protests because he was busy with the shooting of the Aha episodes.