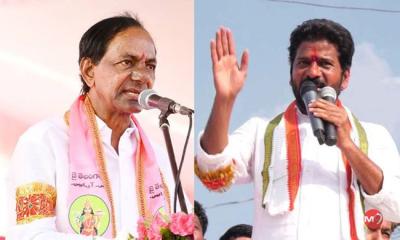 The fierce face-off between Telangana CM KCR and firebrand leader Revanth Reddy always hits the headlines. Revanth Reddy is after the TRS and KCR after he was arrested. While he was taken to the Police Station, Revanth Reddy slapped his thigh and said he would come back and target KCR.
There is no stopping for Revanth Reddy after he was made the Telangana Pradesh Congress Committee(TPCC) President. He is going against the ruling party more aggressively post his appointment. In his recent interview with a leading Telugu news channel, Revanth Reddy spoke about his ambition.
In the promo of ABN's pen Heart With RK show, Revanth said defeating KCR and dethroning him from his position is his ambition and said that he has the confidence of doing the same. Revanth Reddy made these comments in reaction to the question of people seeing him as a credible alternative.
Host RK asked TPCC chief Revanth Reddy on whether Revanth Reddy can be made the Telangana Chief Minister if Congress wins the elections. The promo shows Revanth replying that Sonia Gandhi granted the Telangana state and the state should pay back to her.
Revanth also said that KCR is not a dictator but a cheater. My aim to win the Chief Minister post and KCR is a small thing in front of that, Revanth Reddy said. The editor of the show should be appreciated for making sure that the interesting questions were covered.
The new episode in season three of Open Heart With RK will be aired on Sunday. As Revanth Reddy is a no-nonsense man and he won't shy away from reacting to the issues, one can expect some interesting and sensational answers from Revanth Reddy in the interview.