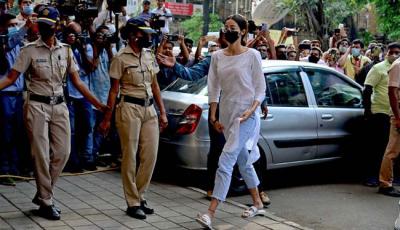 The Bollywood drugs case is shaking the entire film industry. Several Bollywood superstars and their sons and daughters are under the radar now and further investigation has been commissioned by the Narcotics Control Bureau (NCB). The pace of the investigation was amped up multi folds soon after the arrest of Shah Rukh Khan's son Aryan Khan. After Aryan Khan's arrest, the NCB has been keeping tabs on Bollywood star kids. The authorities have even identified that Aryan had a text conversation with Ananya Panday just before he was arrested by the NCB in regard to a drug bust.
Days later, the NCB raided Ananya's house and seized her mobile phone and laptop. The actress was then summoned to attend the NCB investigation at the earliest, which she did a couple of days ago. Anaya attended the investigation along with her father Chunky Panday.
Now, there are rumors that the allegations Ananya has been facing in regard to the drugs case is taking a big toll on her acting career. The other day, reports surfaced on social media that Ananya was initially in consideration for Thalapthy Vijay and Vamshi Paidipally's Thalapathy66. However, after the drugs case surfaced, the makers of the Vijay starrer opted not to rope in Ananya and started searching for other alternatives. When asked about the same, Ananya came up with a clear-cut and affirmative response.
"In the first place, I didn't even receive Thalapathy66. Now, there are rumors that I was exuded from the project. How can I be excluded from a project that I wasn't even a part of? I don't know how and where these rumors come from. First, they were the ones who said I was roped in for the project and they themselves then declared that I was exuded from it. This is as preposterous as it can get," Ananya said in her latest interaction with a media portal.
Well, it appears to be that Ananya was not even a part of Thalapathy66 in the first place. In that case, how can she be exuded. Well, Ananya has been in the news for all the wrong reasons in the recent past and the gossip mongers seem to be taking advantage of the situation.