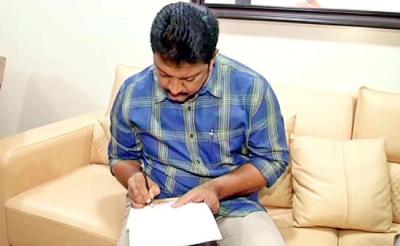 Things are not going in the right direction for the Telugu Desam Party(TDP) party. Series of defeats are making the party lose its credibility and following in the public and rubbing salt into the wounds, the political leaders are raising questions on the future of the political party. Now a TDP legislator had leveled sensational allegations against Chandrababu Naidu.
TDP leader Vallabhaneni Vamsi who represents the Gannavaram Assembly constituency had accused Chandrababu Naidu of being the key man behind the death of Paritala Ravindra, who was instrumental behind making the Anantapur region as the bronze fort for TDP.
Not stopping with just accusing TDP supremo Chandrababu Naidu over Paritala Ravindra's death, rebel MLA Vallabhaneni Vamsi dared CBN to swear on his grandson if he had no role to play in Ravindra's death. Vamsi also blamed Naidu for Kodela Siva Prasada Rao's death.
Paritala Ravindra's former follower Vallabhaneni Vamsi had come down severely on Chandrababu Naidu reacting to the comments of Paritala's widow Sunitha against him and Kodali Nani at the TDP protest severely objecting to the abusive comments against Chandrababu Naidu.
What is surprising is that Vallabhaneni Vamsi who spoke with a serious tone against Chandrababu Naidu did not use the same tone against Paritala Sunitha and called her sister-in-law. She was and will be my sister-in-law. I used to address her as Vadina and will continue to address her as the same, Vamsi said.
Expressing his shock over Paritala Sunitha targeting him, Vamsi alleged that the comments made by Sunitha are nothing but the script that was written by Chandrababu Naidu. I don't know why Vadina(Paritala Sunitha) is angry at me and Kodali Nani. He provoked her against me as he did with Paritala Ravindra and KCR. He made leaders target them and remained silent, Vamsi said.
Vallabhaneni Vamsi also dared Sunitha to make Nara Lokesh win the elections and said he would resign from his Assembly constituency. I will send you a blank paper with my signature. You submit it to the Speaker and bring a by-election. If Nara Lokesh agrees to contest from my constituency, I am ready, Vamsi said, reacting to Sunitha's comments.