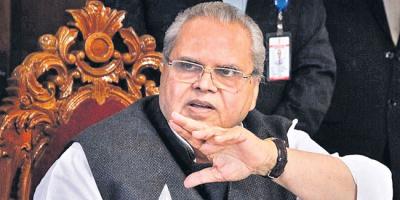 Serving Governor of Meghalaya Satya Pal Malik who earlier rendered his services as the Governor of Goa and erstwhile Jammu and Kashmir had shared his experience where he was informed that he would receive as much as Rs 300 crore as a bribe if the files of Ambani and a person related to Rashtriya Swayamsevak Sangh(RSS) were cleared.
Though the Governor did not give details on who told him about the bribe, Satya Pal Malik said, the incident took place when he was the Governor of the combined Jammu and Kashmir region. I have turned down the deal and informed Prime Minister Narendra Modi on the same, he said.
When I informed the Prime Minister of the deal, he supported me and said one need not compromise, he said. During my tenure at the Jammu and Kashmir Governor's office, two files reached my table. When I was told that there is a big scam behind the files, I canceled them straight away, he said.
Satya Pal Malik had made the sensational claims while addressing a gathering in Rajasthan's Jhunjhunu region. Talking about his reaction to the deal, he told the Secretaries that he would not encourage such practices and would leave the office with five kurta-pajamas he brought with him.
The former Governor of Jammu and Kashmir said that one file belongs to Ambani and the second one belongs to a Minister in the PDP-BJP coalition. I was informed that the Minister was close to the Prime Minister. But I went ahead in canceling the deal, he said.
Though he did not spill more bills on the bills, media reports say that he was indirectly talking about the policy brought by the government to offer insurances for the journalists, pensioners, and the employees who work under the government. Reports also mention that Malik had turned down the proposal of the government making a tie-up with the Ambani family's Reliance Insurance firm.
Citing this as an example, the Governor had appealed to the officers who take up jobs to not lose their character and honesty. You should not change your decision due to the pressure, the Governor said.