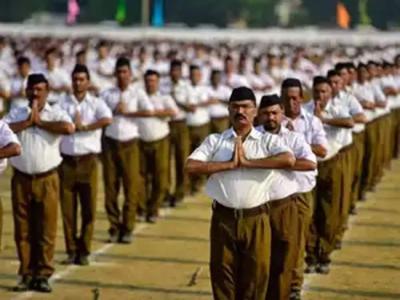 Dynamic and active Revanth Reddy today is the blue-eyed boy of the Congress Party's top family. Rahul has a special liking for him and Sonia prefers him over other leaders. Navjot Singh Siddu is a domineering and charismatic leader. And the Gandhi-Nehru-Vadra family prefers him to other leaders in Punjab. Nana Patole, the PCC chief of Maharashtra too is quite active and the Gandhi-Nehru Vadra family has a special liking for him.
But, what is common between all these three leaders? All these three leaders are from the Sangh Parivar. Yes. Strange as it may sound, these leaders are from the RSS-BJP family. Revanth Reddy was quite active in the ABVP and had a dalliance with RSS publication Jagriti. Siddhu was the BJP MP for two times and was known for his eloquent pro-Modi speeches. Nana Patole is also from the BJP background.
So, Sonia Gandhi's blue-eyed boys have an RSS past. Former CM of Punjab and now a strong dissident Amarinder Singh has highlighted this fact and sought to know why the Congress chief has been preferring those from the RSS background. He asked what was wrong if he joined hands with the BJP and form a new political party in Punjab. He asked as to how Congress can question him when the Congress pampers those from the Sangh Parivar.
Amarinder Singh is now planning to form a new political party that would be part of the NDA. He is planning to contest elections in Punjab and spoil the winning chances of the Congress Party. The High Command edged him out from the CM's post and appointed Charanjeet Singh Channi as the CM. Punjab is going to polls early next year.