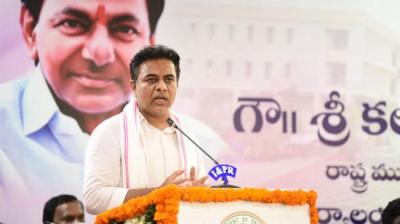 For any political party, success is the name of the game. Very few parties respect those who do not have power. Most of the TRS leaders, who were defeated in the assembly and Lok Sabha elections are now passing through the this phase of lack of recognition. Despite winning several times, one single loss has reduced them to nonentities.
There is no place for such TRS leaders, who had illustrious political careers , but were defeated in the 2018 elections in the overall scheme of things in the TRS. The is true especially of the preparations for the Telangana Vijayagarjana that the party is organising to mark the 20 years of the party's formation. There is a lot of activity in the Telangana Bhavan and a host of preparatory meetings are being held. From the elected mandal presidents to MPTCs and sarpanches, a large number of the leaders are daily trooping in and trooping out. The building has become a hub of activity.
But, none of the defeated MLAs, former ministers, former speakers is being seen. Sources say, there is no invitation to them. Former ministers like Jupalli Krishna Rao, Tummala Nageswara Rao and dormer speaker Madhusudhana Chary are still active in the party. But they have not been invited for consultations. At the same time, 15 defectors who came into the TRS from other parties are very active in the consultations.
Some leaders are even making inquiries about the preparations and the list of invitees. For instance, leaders like Jupalli, Tummala, Madhusudhanachary, Ponguleti Srinivas Reddy, Jalagam Venkat Rao,Vemula Veeresam and others are making enquiries about the preparations, but they are not getting much information.  In fact, some leaders like Ponguleti have openly raised objections at being sidelined.