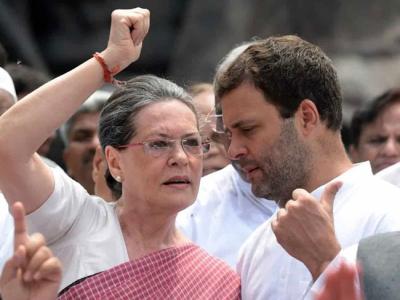 The grand-old Congress party which is in opposition status at the Centre had called for a crucial Congress Working Committee (CWC) meeting on Saturday. A lot of important issues are said to have come up for discussion at the high-level meeting. The Congress party also gave clarity on the Congress President's post.
At the meeting, Sonia Gandhi made it clear that she will be the President of the party. Taking an indirect dig at the leaders who raised their voice against the leadership, Sonia Gandhi said, she is the full-time President of the party. I am full-time President if you allow me, she said.
Sonia Gandhi's statements at the crucial meeting came as a surprise to everyone as the Congress leaders have been demanding the party to appoint a full-time chief and raising their voice calling for the new office bearers of the party.
Sonia Gandhi, the current interim chief of the Congress party had showered praises on the party leaders, mainly the younger leaders for being the bridge of taking the policies and fight of the Congress party to the public.
Sonia Gandhi also expressed her dissatisfaction over the Congress party leaders speaking to the media on the issues that have to be reached her. She told the leaders that they need not talk to the media on these issues. Sonia Gandhi had surged the leaders for an honest discussion on the party-related issues.
As an example of honest discussion, Sonia Gandhi had cited the example of how the party had earlier issued joint statements on a lot of issues like the farmers' issues and others. We have coordinated on the issues in the Parliament too, she said.
After Rahul Gandhi had stepped down as the Congress chief in 2019, a few Congress leaders including seniors and younger leaders are waging a war against the party leadership for a full-time President. They have earlier written to Sonia Gandhi on the same issue.
As many as 23 leaders including Kapil Sibal, Ghulam Nabi Azad, Manish Tewari, Shashi Tharoor, and others have batted for the demand of revamping of the leadership by appointing a new chief. The letter written by the 23 Congress leaders had created a storm in the Congress party.