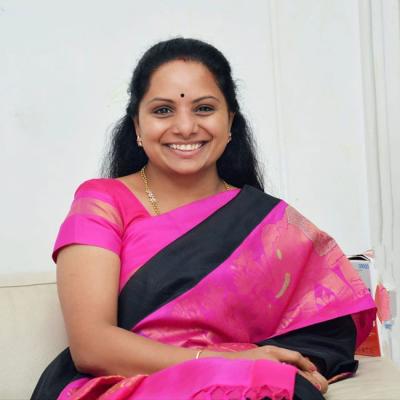 The TRS circles are speaking about Kavitha Kalwakuntla's absence at the Batukamma celebrations in the Pragathi Bhavan, where her father and brother KTR live. Kavitha, who is synonymous with Bathukamma festival and has played a key role in popularising the festival during the 13 year-long agitation, was not seen at the celebrations in the Pragathi Bhavan.
Sources say that Kavitha has been sulking for the past few months. It may be recalled that Kavitha did not tie rakhi to the wrist of brother KTR this year. This celeb rakhi bandhan was a surefire photo op in the media. But this time, she was not here to tie rakhi to KTR. Of course ,  she can always say that she was vacationing in the US. However, the pic she tweeted on Rakhi Bandhan day had not just KTR but also MP Joginapalli Santosh Kumar, a cousin of Kavitha. This indirectly showed that she had downgraded his sibling. Her absence now is being viewed as an expression of her dissatisfaction.
Sources say that Kavitha is facing several political uncertainties. Her term is coming to an end early next year and she may have to contest the 2023 elections. If she contests for the assembly, her seat has to be decided. If she again contests for an MP seat,  then there is no possibility of her becoming a minister at the Centre. When she retires next year as an MLC, she may have to be without any position for at least an year.