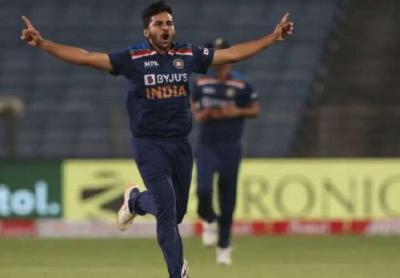 The BCCI had announced a new change in the Indian squad for the T20 World Cup. In place of Axar Patel, the Board of Control for Cricket in India(BCCI) announced an all-rounder and issued a statement to confirm the change in the Indian squad.
As Axar Patel was moved to the stand-by players' list, the BCCI said all-rounder Shardul Thakur will replace the spinner for the tournament. The change in the Indian squad came days ahead of the start of the tournament.
The statement was released on Wednesday by the BCCI saying that except for Shardul Thakur taking the place of Axar Patel, there were no changes in the squad. The statement had also cleared the air on Hardik Pandya's place in the squad.
Team India's first outing in the T20 World Cup will be against Pakistan. The match will be played on the 24th of this month and will be hosted at the Dubai International Stadium. In the next two matches, Team India will lock horns with black caps New Zealand and Afghanistan.
For the first time, former Indian skipper-player Mahendra Singh Dhoni took up the role of mentor as he will be mentoring the Indian team led by skipper Virat Kohli in the tournament. The tournament is the last World Cup for Virat Kohli as the captain.