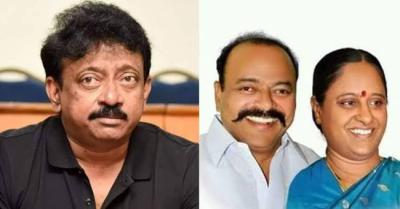 Controversies are not new for sensational director Ram Gopal Varma aka RGV. Infact, he has been in the limelight due to his controversies more than his films and work. He shot to fame with neo noir gangster films.
After trying his luck with a few bold and romantic films, RGV is all set to take the path he is comfortable with, it is crime thrillers.
RGV had confirmed the news of bringing a biopic on Konda Surekha Murali and RK. The biopic that traces how the suppressed sections locked horns with the feudal system has been named Konda.
The director said that he knows about rowdism in Vijayawada since his college days in the city but the factionism in Rayalaseema had caught his attention after the bomb blast incident that took place close to Rama Naidu studio.
Adding further, RGV said that he got to know about the Telangana rebellion movement, when he met a few naxalites and cops. The links between Maoist leader RK and Konda Murali had drawn me towards making a film on the subject.
RGV found even more interesting the armed rebellion and naxalism in Telangana. The movie is to explore Konda Murali's special relationship with the top naxal leader Ramakrishna, well known as RK. RGV sees the emergence of rebellious outburst in Konda Murali was out of compulsion and it was a necessity to counter the feudal monarchy of that time. Further, he added that it's still relevant in contemporary politics.
RGV said that the relellion acts of Konda Murali was nothing but necessity to go against the feudal system in those days and the issue is relevant in current politics too, he said
Knowing my intention in making a movie on the subject, Konda Murali had agreed to share information that helps me to present the then existing situations in a cinematic way, RGV maintained..
As said by Karl Marx that extremists will be born out of extreme situations, Konda Surekha and Murali were born due to the same situations, he added.
When RGV came up with a similar concept titled Rakta Charitra, the directed had presented the revenge politics in Andhra Pradesh and he is gearing up to do the same with the Telangana region.
The political observers are of the opinion that RGV has the ability to show the real situations and the couple gets right portrayal in the upcoming biopic.