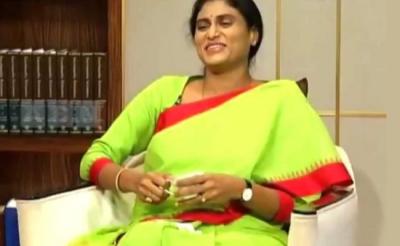 Andhra Jyothy's Vemuri Radhakrishna requires no introduction. Through his Open Heart with RK interviews and weekly column Kotha Paluku, RK became a popular personality in the media arena. He is known for his pro-TDP and anti-YSRCP agenda. He faced a lot of issues with the political stand. However, the issues didn't help RK change his stand.
The next season of the Open Heart with RK starts with the interview of Andhra Pradesh Chief Minister YS Jagan Mohan Reddy's sister, YS Sharmila who is currently focusing on Telangana politics by floating YSRTP.
As the next season starts on Sunday, the ABN channel released the promo of the interview. The promo shows how RK is aiming questions at Sharmla to hear a reply that there are issues among the Jagan family.
Sharmila can be heard in the promo as saying that she is not the arrow of Jagananna, but the daughter of Rajanna. The statement can be seen as a bid to hit back at her critics who are terming Sharmila as Jagananna Banam.
The short promo shed light into YS Sharmila's feelings when she heard that she is not related to Jagan's YSRCP. Sharmila said it was painful to hear from Sajjala Ramakrishna Reddy, who said I have no ties with YSRCP, Sharmila said.
Interesting questions on what made Sharmila start her political outfit is due to issues with YS Jagan Mohan Reddy. She was also asked who will be the Chief Minister of Andhra Pradesh if Jagan goes to jail. The promo had made the viewers eagerly wait for the episode as they can know the answers given by Sharmila for the questions she faced during the interview.
Sharmila had started her political outfit YSR Telangana party(YSRTP) in Telangana amid much fanfare. At the launch event, Sharmila had made interesting comments against Telangana Chief Minister KCR and the Telangana wing of BJP.
Sharmila maintained that BJP and TRS made a secret agreement that they create a situation to make the voters believe that the two parties are opponents. But the reality is different, BJP leaders make allegations against KCR but they don't file any case against the Chief Minister, Sharmila said at the launch event.