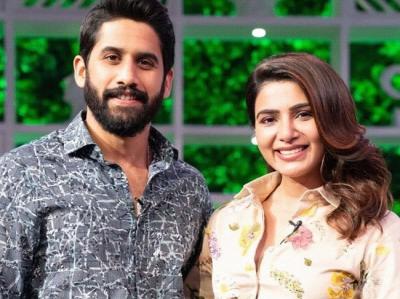 Much is being said about the marital life of Naga Chaitanya and Samantha. There are several media portals reporting baseless and unverified speculations and rumors about the marriage life of the Akkineni couple. The fact that both Naga Chaitanya and Samantha are refraining from putting an end to these speculations by releasing an official statement is adding more weight to the above mentioned speculations. The dust around the speculation will die down only after Samantha and Naga Chaitanya clarify on the same but that isn't happening anytime soon.
Meanwhile, reports are rife that Samantha is planning to approach the court, complaining about the widespread speculations about her marriage life. She is irked by the speculations surrounding her marital life and intends to move the court against the media portals that are spitting venom on her personal life. Samantha might be initiating legal proceedings at the earliest and more details about the same will be out very soon. She is said to be sourcing the proofs to strengthen her case in court. This could come as a big shock to the media portals that have spread baseless speculations about Samantha's marriage life. This is one way to silence the media portals.
Samantha is said to be particularly unhappy about the alimony angle in the whole scenario. A few portals reported that Samantha is taking a whopping amount of money as alimony in the alleged divorce case. This irked the actress to a great extent and there will be repercussions for the same now. This wasn't always the motive of Samantha but she is being forced to do so by a set of irrational media houses.
It would be really interesting to see how Samantha operates henceforth. It is heard that she wishes to take a proactive stand in order to curb the innumerous baseless rumors surrounding her marriage. Meanwhile, Samantha is currently in Chennai. As for Naga Chaitanya, he is currently in Hyderabad. It is known that Chaitanya's latest outing Love Story is out in theatres now. The love drama is directed by Sekhar Kammula and it has Sai Pallavi in the female lead role.