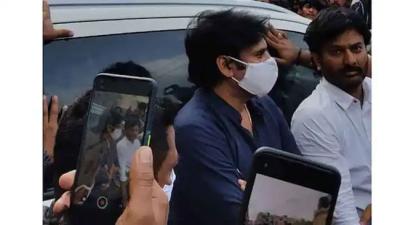 The alleged rape and murder case of a 6-year-old in Hyderabad's Siadabad is a burning case in the state currently. A few organisations and activists are protesting demanding strict action against the accused.
Actor-turned-politician, Janasena chief Pawan Kalyan had met the kin of the victim on Wednesday and consoled them. He assured them that he will stand in solidarity with them till justice is served for them. Pawan Kalyan spoke to the media after consoling the victim's family.
Saying that he was disturbed hearing the incident, Pawan Kalyan said we should let our chin down with shame due to the incident. The government should reach out to the victim's family and support them, he said.
Pawan Kalyan is the recent one to support the family of the victim. Earlier, Manchu Manoj had extended his support to the family and said he would support the family in the possible way he could.
The horrific incident took place on Thursday earlier last week. The accused is said to be the neighbor of the victim. The victim is yet to be arrested and the cops have launched a search operation.