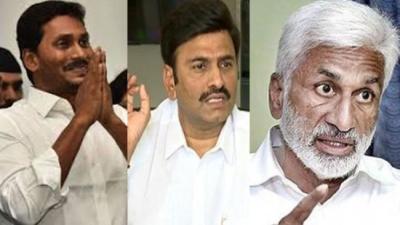 YSRCP rebel MP Raghurama Krishnam Raju aka RRR, who has been fighting to seek orders from the court to cancel the bail of Andhra Pradesh Chief Minister YS Jagan Mohan Reddy and YCP MP Vijayasai Reddy had moved the CBI court in this regard.
The petition filed by RRR on cancellation of the bail of Jagan and Vijayasai Reddy came up for hearing before the Central Bureau of Investigation(CBI) court on Wednesday. Besides the political circles, the people in Andhra Pradesh have also eagerly waited on the court's orders.
As a major sigh of relief to Jagan and Vijayasai Reddy in the bail row, the CBI Court had struck the petition filed by Narsapur MP Raghurama Krishnam Raju. The Court is said to have not been satisfied with the arguments of RRR on his petition, media reports say.
Advocates who represented the Narsapur MP in the bail cancellation petition told the court that CM Jagan and Vijaysai Reddy had violated the bail conditions and they are also influencing the witnesses directly and indirectly in their respective cases. Based on the same reasons, they sought the cancelation of the bail.
Advocates who appeared before the court on the behalf of Andhra Pradesh Chief Minister YS Jagan Mohan Reddy had countered the arguments of RRR's advocates saying that bail conditions were not violated by them and there is no truth in those claims. RRR had filed the petitions for his personal and political gains, they said.
The counsels who came to the court for petitioner RRR and CM Jagan had placed their respective arguments in this case before the judge. After hearing the arguments, the court quashed the petition.
It has to be noted that RRR, who had a fallout with the Andhra Pradesh government had moved the court claiming that Jagan has been violating the bail conditions and sought the cancelation of his bail. The sensational petition was filed back in April. Despite the hearing of the petition being completed in July itself, the court had reserved its verdict.
RRR faced another jolt earlier today, after the petition filed by him seeking the transfer of petitions he filed to cancel Jagan's bail to the court from the CBI court was quashed by the High Court.