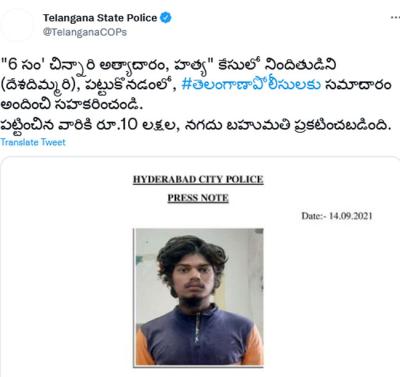 Natural star Nani took to Twitter and wrote a short but strong note. He wrote that tweet in Telugu which translates to, "He is somewhere…He shouldn't be." This is regarding the inhuman and cruel crime committed by a guy on a 6 year old kid in Singareni colony. A lot of people and celebrities have vented their anger on social media.
They are demanding the police department to get a hold of the accused immediately and bring him to justice. Stars like Mahesh Babu, Manoj, Nani and others tweeted about it and Nani recently shared the description of the person who committed the crime.
The police department released the details and announced a 10 lakh prize money for people who caught him. Apparently, he is 30 years old and has a height of approximately 5.9 feet. He has a long hair and wears a cap and red scarf around his neck. He even has tattoos on both his hands as "Mounika' and has beard at chin. So, it is our duty too as responsible citizens to get a hold of this inhuman criminal who committed such a cruel crime.