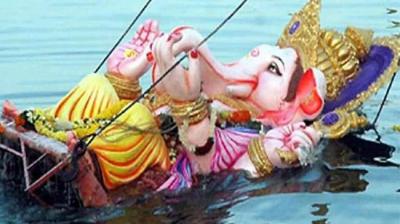 The Telangana High Court had made its stand clear on the Ganesh Idol Immersion in Hussain Sagar and said permission for the immersion of the idols in the lake cannot be given as it pollutes the water bodies. Idols made of Plaster of Paris cannot be permitted for immersion in the water body.
The High Court had rejected the interlocutory application that was filed by the Greater Hyderabad Municipal Corporation(GHMC), the civic body of Hyderabad. The petition was filed seeking a few changes to the orders issued by the bench in this matter earlier.
The bench of Telangana High Court comprising Chief Justice M.S. Ramachandra Rao and Justice T. Vinod Kumar said it cannot modify the order as the decision will result in polluting the water body.
With no option left in the Idol immersion row, the Telangana High Court had knocked on the doors of the Supreme Court challenging the orders issued by the Telangana High Court on rejecting the immersion of the Plaster of Paris idols in the Hussain Sagar.
The petition that was filed by the Telangana Government on the idol immersion is likely to come up for the hearing on Wednesday and the verdict is also to come on the same day. With only days left for the idol immersion, all the eyes are on the Supreme Court on what the Supreme Court will say in its verdict.
Bhagyanagar Ganesh Utsav Samithi, which takes care of the festival activities and other activities said the Ganesh Chaturthi celebrations are very famous and the tradition is going on for many years.
Telangana Cinematography and Animal Husbandry Minister Talasani Srinivas Yadav said the issue was taken to the Supreme Court and the government is waiting for the verdict to come from the Supreme Court. The Ganesh immersion in Khairatabad is very famous and devotees from various parts of the state will come here to be a part of the celebrations, he said.
The Minister chaired a key meeting on the immersion issue of the Ganesh idol today. The key dignitaries in the Bhagyanagar Ganesh Utsav Committee and the Telangana Chief of Vishva Hindu Parishad (VHP) M Rama Raju and others took part in the discussion.