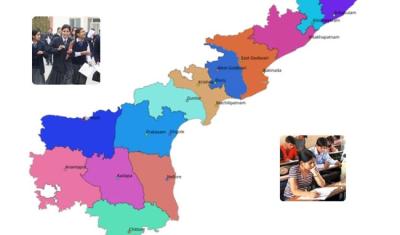 It is known that the educational institutions including the schools, colleges, and other facilities across the country have been shut since 2020 due to the deadly outbreak of the novel Coronavirus. The second wave of Covid resulted in the extension of the shut down of the institutions.
With the Coronavirus cases showing a slow down in the spread of the virus and the cases coming down gradually, the Andhra Pradesh Government gave its nod for the reopening of the schools in August.
Now the government had focused on the reopening of the Higher education institutions and an Academic calendar regarding the same was also issued by the government. The calendar says the educational institutions will reopen from the 1st of October.
The classes for the 1st, 3rd, and 5th semesters for the conventional Degrees and PG courses will start from the 1st of October. The exams will commence on the 24th of January. Coming to the remaining semesters, 2,4, and 6, the classes will start from the 15th of February.
A time of eight weeks will be provided for the Community Service Project and Summer Internship and Apprenticeship after the second and fourth semesters respectively as per the details mentioned in the academic calendar.
On the other hand, the classes for the B Tech and B Pharmacy for the odd semesters, 1,3,5, and 7 will be started from October 1st. The fourth semester will start on the 15th of February. The exams would commence from the 1st of June, while the projects will be started after the fourth semester.
Coming to the Post Graduation(PG) courses, November 1 will see the start of the classes. The classes for the 2nd, 4th, and 6th semesters would start from March 14th. The final exams would be held from the 4th of July. The exams for the 1st, 3rd, and 5th semesters would commence from March 1st.
Following the reopening of the educational institutions across the state, the concerned officials are busy supervising the works for cleaning and sanitation in the facilities. The Covid protocols like wearing the facemasks and observing physical distance at the institutions were made mandatory.