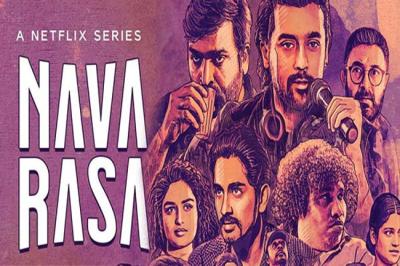 'Navarasa' Anthology Series Review!
With Mani Ratnam has the producer, big renames likes Priyadarshan, Gautham Menon, Karthik Subbaraj and others as directors, world-class technicians like AR Rahman, Santosh Sivan and actors like Suriya, Vijay Sehupathi, Siddharth and big actors are included in this anthology, it raised a lot of buzz right from the beginning. Nine stories explore nine different emotions which is very interesting to listen to. Let us see how the anthology has turned out.
1. Edhiri: (Karuna)
Vijay Sethupathi, Prakash Raj and Revathi are a part of this episode. It is a revenge story of a person who tries to kill a guy who is responsible for his brother's death. This can also be stated as a story of a woman who doesn't react even after his husband was killed right before her eyes. The scene with Prakash Raj and Vijay Sethupathi in the middle steals your interest and raises a lot of expectations but the climax is its biggest drawback. Vijay Sethupathi and Revathi's acting are worth mentioning but director Bejoy Nambiar disappoints.
2. Summer of 92: (Hasya)
This is the most entertaining episode in the entire anthology. Priyadarshan made this episode and popular Tamil comedian Yogi Babu is the main character in it. It is the actor who played the younger version of Yogi Babu who stole the show. The scenes around the childhood scenes are quite funny. This episode has been executed well despite not being on Priyadarshan's legendary level. Yogi Babu was impressive with his variety look and screen presence and Ramya Nambeesan did well too.
3. Project Agni: (Adbhuta)
This episode reminds everyone of the 'Project X' plot which we saw in the Telugu anthology 'Pitta Kathalu'. The clear influence of a couple of Hollywood science fiction movies can be seen. Young director Karthik Naren handled this episode and Christopher Nolan's style is evident in it. It is filled with conversation between two scientists played by Aravind Swamy and Prasanna. It bores to some extent but the last 10 minutes gets very interesting and the ending twist leaves the audience surprised in a good way. A certain section of the audience may like this attempt. People who don't watch Hollywood science fiction movies and web series may enjoy it and both the actors did a good job.
4. Payasam: (Bheebhatsa)
We usually expect a lot of violence or rage when hearing 'Bheebhatsa' but this episode dwells on how extreme jealousy kills the person from inside. The lead actor Delhi Ganesh dominated everyone completely. The story takes place in 1965 within a Brahmin family. This episode falls under 'Hasya' emotion during the end but we don't feel Bheebhatsa emotion. Made by Vasanth Sai, this episode is average at best but doesn't make a huge impact. The other main characters played by Rohini and Aditi Balan were decent.
5. Peace: (Shanthi)
Young and talented filmmaker Karthik Subbaraj who showed a lot of promise at the beginning with movies like 'Pizza' and 'Jigarthanda' has been underperforming a lot lately. Starting from 'Petta' to the recent 'Jagame Thanthiram', he failed to impress the audience who pinned high hopes on him. He did the same for this episode too. Much like Dhanush's film, Karthik picked up the Sri Lankan Tamilians backdrop but failed to narrate it in a convincing and emotional way. There is no depth in the sequences which are necessary to move the audience. Overall, 'Peace' is a disappointment and even the ending leaves you unsatisfied. Bobby Simha gets brownie points for his performance while Gautham Menon is okay.
6. Roudhram: (Raudra)
While the bigshot filmmakers came up with below-par content, it is Aravind Swamy who gives the best output with his debut directorial. He exceeded everyone's expectations. His 'Roudhram' stands above every other episode and Aravind Swamy should be commended for it. He is well backed by top cinematographer Santosh Sivan's work. The visuals make you awestruck and the tight narration followed by a good twist at the end creates a big impact. Aravind Swamy impressed as an actor in 'Project Agni' but he did a better job as a director. The young actor who played the key role did a fantastic job.
7. Inmai: (Bhaya)
Siddharth and Parvathi played the lead roles in this episode which was made by Radhindran Prasad. We expect some spooky moments as it is about 'Bhaya' emotion but it falls flat. Though some scenes try to instill fear, they did not work out. There are a lot of twists in the story but they are predictable. It runs on the lines of what happens when guilt takes over your conscience. Despite having less screentime, Siddharth did a great job and he even did the teenage part by himself and impressed everyone. While Ammu Abhirami did the teenage character, Parvathi played the regular aged role. Both of them did decently.
8. Thunintha Pin: (Veera)
The story was penned by Mani Ratnam and Sarjun directed it. Atharva Murali played the lead role in this episode which runs on the Naxals versus Police department storyline. A young police officer completes his training and joins a Naxal operation and loses all his companions in the attack. He goes ahead, shows his bravery and catches the Naxal leader. The story has nothing new but it is the performance of Atharva which is wonderful and Anjali who played the role of his pregnant wife is fantastic too. Their emotional scenes touch the audience but it is not a completely engaging episode.
9. Tugging At My Guitar Strings: (Sringara)
Despite many disappointing episodes, people wait eagerly for Suriya and Gautham Menon's part which was kept at the end. The magical combination fails to reach the expectations as there is nothing new. We all know the impact Gautham Menon's love stories create on the audience but the scenes in this episode remind us of his previous work all along. The lack of freshness is the main drawback but this episode has some romantic and magical moments which remain with you. Suriya's acting is flawless as usual and Prayaga Martin did a good job too. But it falls below the expectations.
Verdict:
Despite the big names associated with this anthology web series, it leaves the audience with dissatisfaction. Only a few episodes impress the audience and the rest leaves you disappointed. People who expect an epic anthology might not get what they want but the performances and technical quality are definitely top-notch in 'Navarasa'. Watch it to look at the big stars trying to pull off ordinary scripts.
Rating: 2.5/5
Disclaimer : This Review is An Opinion of One Person. Please Do Not Judge The Movie Based On This Review And Watch Movie in OTT